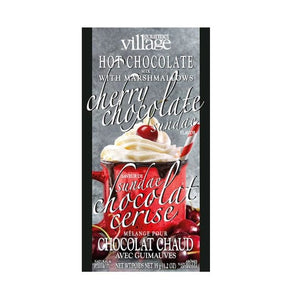 Gourmet du Village Cherry Chocolate Sundae Hot Chocolate
Gourmet du Village's flavored hot chocolate is one of the kitchen supplies we offer.
Experience hot chocolate like never before. Serve up this delicious flavored hot chocolate to your guests, friends, or the customers of your restaurant/cafe.
In this hot chocolate mix, more cocoa is blended in with less sugar (double truffle blend) to produce a deeply rich flavor. This creates the perfect hot chocolate base for the Cherry Chocolate Sundae flavor. The mix also includes mini marshmallows.
To prepare this hot chocolate drink, add 6oz of hot water or hot milk to the contents of this sachet. Choosing water will give you a deeper, more chocolatey taste; choosing milk will give you a creamy taste and texture.
---
We Also Recommend
---