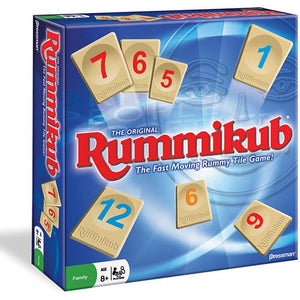 Rummikub
Break out a classic and enjoy a quiet game night with The Original Rummikub. Whether you're challenging your friends or family, this relaxing game of strategy is always an excellent choice. Be the first to play all of your tiles, but make sure to play smart – slow and steady definitely wins this race.
Players take turns using their tiles and those in play to create runs and sets. Runs are made up of any numbers in sequence of the same colour (red, yellow, blue, or black), and sets consist of the same number in different colours. Play continues until one person is out of tiles, the remaining players add up their remaining tiles and add that to their score. The player at the end with the lowest score is the winner.
The international favorite! Create runs and sets of numbers in this classic, all-family game!
Contents:
106 plastic tiles
4 racks
rules
Players: 2 to 4
Ages: 8+
---
We Also Recommend
---